University of North Texas Health Science Center Student Chapter




College of Osteopathic
Healthcare Executives

University of North Texas Health Science Center,

Official Student

Business Cards

The Department of Biomedical Communications/Office of Medical Arts and ACHE are making the UNT Health Science Center Business Cards available to the general student body.

This multi-color card will be a great networking tool to help you make lasting connections as you are beginning to establish your professional career. Since you will be here for the next four years, make an investment in these UNTHSC business cards.

Let your business card enhance your professional appearance
During your residency interviews,
By attaching it to your resume, scholarship applications, or CV,
When interacting with regular patients in TCOM clinics,
When meeting other doctors and colleagues at professional conventions,
When maintaining contact with your preceptors and attending physicians on your rotations.
If you are a Biomedical Science Student, these cards will be very handy when you go to research presentations, conferences, and interviews.
Because the printing is done in house by the Health Science Center, the prices are very competitive as compared to outside vendors. For instance, the comparable card made by Kinkos will cost you $65.00 for 200 cards. Our prices are $25 for 200 cards and $23 for 100 cards. Please Call Rick Lin at 817-927-2433 if you have any questions.
To print a copy of the order form, click on the sample business card below. The deadline for September 10th, 1998 Delivery is 8/15/98.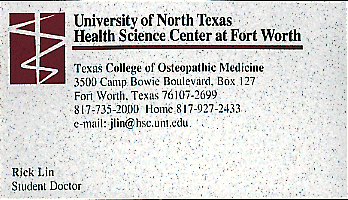 Click Here to Pring an Application

Home | | Mission and Goals | | Activities | | Membership
Officers | | Career Development | | National ACHE